Series 1 Base Set 1-90





21-40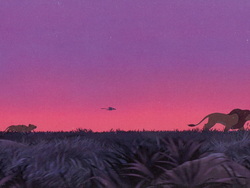 21
"Dad, I'm ... I'm sorry."

"You deliberately disobeyed me! Mufasa scolds Simba, as he leads the way home with Nala and Zazu trailing behind. Simba follows, head hung low. "Dad, I'm .... I'm sorry," he says. "Let's go home," Mufasa fumes. As they walk along, Nala shoots Simba a glance then whispers, "I thought you were very brave."
---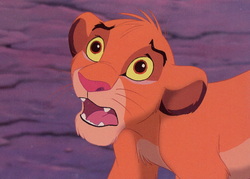 22
"The kings will always be there to guide you."

Later that evening, Mufasa and Simba have a father-son talk beneath the vast, star-filled sky. "You could have been killed!" Mufasa tells Simba sternly. "I was just trying to be brave, like you," Simba says tearfully. To reassure his son, Mufasa tells him something his father told him: "The great kings of the past look down from the stars. Whenever you feel alone, remember the kings will always be there to guide you. And so will I."
---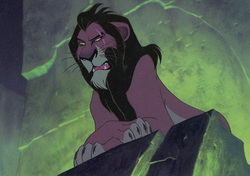 23
Scar sings of his plan

Meanwhile, Scar appears at the hyenas' lair. "I practically gift-wrapped those cubs for you," he says, "and you couldn't even dispose of them." Then Scar strikes a deal with the hyenas. If they help him kill Mufasa and Simba, Scar will become king and he'll make sure they never go hungry again. As Scar details his ominous plan, steam shoots up and the earth shakes around him.
---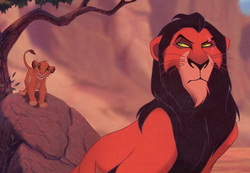 24
A surprise to die for

The next day, Scar puts his plan into action. Luring Simba into a narrow dead-end gorge he tells him to wait because his father has a surprise for him. "Uncle Scar, will I like this surprise?" Simba asks. "It's to die for," Scar sneers, then trots off. Drumming his paws in boredom, Simba decides to work on his roar while waiting for his father.

---
25
Simba runs for his life

Unaware of the danger Scar has placed him in, Simba continues workin on his roar. "Rrroarrrrrrrrr!" he growls. It's getting better — it even echoes off the canyon walls! Then a sound larger than Simba's roar grows louder and louder. It's a huge stampede of wildebeest — thundering towards him. Terrified, Simba runs for his life.

---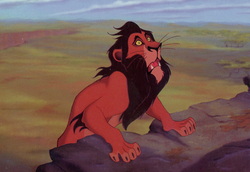 26
Mufasa plunges into the gorge

As Simba runs deeper into the gorge, the hyenas race behind the wildebeest, nipping at their hooves. Meanwhile, Zazu and Mufasa notice rising dust below. Suddenly, Scar appears, feigning panic. "Mufasa! Quick! Stampede! Simba's down there!" Mufasa plunges into the gorge, battling upstream through the oncoming stampede.

---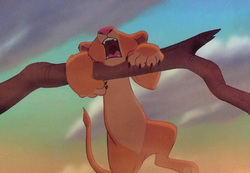 27
"Hold on!"

Finding what refuge he can from the oncoming herd, Simba scrambles up the branch of a dead tree. Looking up, he sees Zazu flying overhead. "Zazu! Help me!" Simba cries. "Your father is on his way!" shouts Zazu. "Hold on!" As Simba clings for his life, a wildebeest crashes into the branch and Simba flips into the air.

---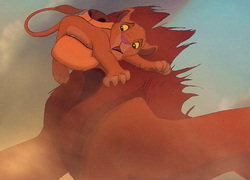 28
Mufasa catches Simba

Mufasa catches Simba and runs with the cub in his mouth. But before he can reach safety, Mufasa is hit by a wildebeest. The cub tumbles into the midst of the dangerous herd! Mufasa dodges the trampling hooves, pulls Simba away, and shoves his son on a rocky ledge — safely out of danger.

---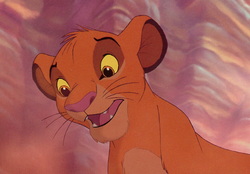 29
Mufasa disappears

Safe on the ledge, Simba watches as his father is knocked back into the stampede. Mufasa disappears under the galloping wildebeest. Simba hears his father's cries — but he cannot see him. "Dad!" Simba cries out. "Dad!"

---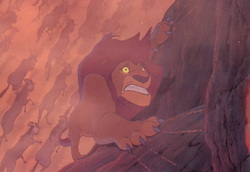 30
Mufasa fears for his life

Terribly wounded, Mufasa makes one last valiant leap for the steep incline. Loose rocks give way as Mufasa struggles up the incline inch by inch, barely managing to make it to a rocky overhang where he clings, exhausted and weak.

---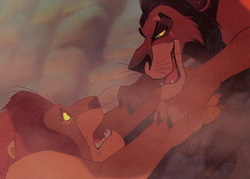 31
"Long live the king."

Scar looms above Mufasa. "Scar, help me!" Mufasa cries. Scar doesn't answer. "Brother — help me?" Mufasa cries again. Scar deliberately digs his claws into Mufasa and shoves his face close to his pleading eyes. "Long live the king," Scar whispers in a voice full of hate. He releases his grip. Mufasa falls.

---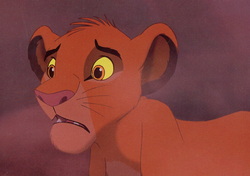 32
"Noooooooo!"

Simba sees his father disappear. "Noooooooo!" he cries, running into the dust-filled gorge. "Dad?" he shouts. Simba hears a sound and turns to look. "Dad?..." but the sound is only a stray wildebeest running off. Its movement guides Simba's gaze to his father's lifeless form.

---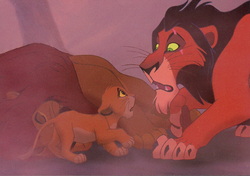 33
Simba runs away

Rushing to his father's side, Simba nuzzles him. Mufasa does not respond. His powerful form lies still and silent. "Dad, you gotta get up!" Simba shouts, panic stricken. Huddling next to Mufasa, Simba sobs in his mane. Taking advantage of the moment, treacherous Scar blames Simba for his father's death. Devastated and guilt-ridden, Simba runs away.

---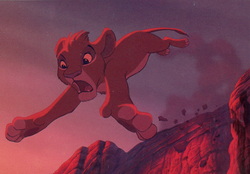 34
Escape from the hyenas

To finish his devious plan, Scar instructs the hyenas to follow Simba — and kill him! In no time, the vicious trio catch up with the young cub. As he runs along an upper plateau, Simba reaches the edge and leaps —landing in a thorny bush.

---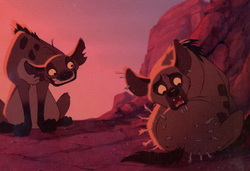 35
Pin cushions and cactus butts

At the edge of the plateau, the hyenas pause, then leap after Simba and land in a thorny situation. Simba pulls himself out and runs off. The hyenas — looking like pin cushions and cactus butts — decide Simba can't last a day on his own anyway, and give up the chase.


---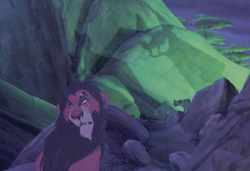 36
Scar assumes the throne

As the sun sets at Pride Rock, Scar lies to the other lions about Mufasa's and Simba's death, and assumes the throne. Scar speaks of "a new order of peace and prosperity in which lion and hyena come together." Then, hyenas slink from all corners of the Pride Lands. Silence falls. Perched on a nearby rock, Rafiki looks on, concerned.

---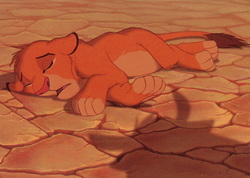 37
Buzzards fly overhead

As Scar takes over the Pride Lands, Simba trudges across the hot, dry desert fighting heat and sandstorms. Shadows pass over him, and Simba looks up to see buzzards circling above — waiting, exhausted, thirsty and grief-stricken, Simba faints. The buzzards circle closer.

---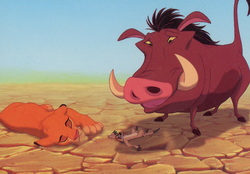 38
"Jeez, it's a lion!"

Arriving in time to save Simba's life, Pumbaa, a warm-hearted warthog, and Timon, a hyperactive meerkat, force the buzzards circling overhead to scatter. Lifting up Simba's paw, Timon shrieks, "Jeez, it's a lion! Lions eat guys like us." "Maybe he'll be on our side," replies Pumbaa, scooping up Simba and carrying him to the jungle.

---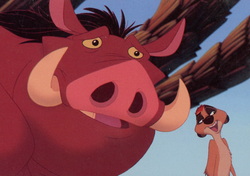 39
Hakuna Matata

At the edge of the jungle, Pumbaa and Timon look over Simba as his eyelids flutter open. "You nearly died," Pumbaa tells him. They ask Simba where he's from, but he feels too guilty and embarrassed to tell them why he ran away. "You're an outcast! That's great!" Timon exclaims. Noticing something's "eatin' at the kid," Pumbaa tells Simba to put his past behind him. They introduce him to the concept of "Hakuna Matata" — a life with no responsibilities and no worries.

---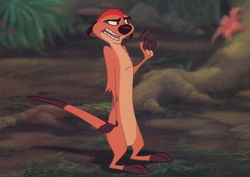 40
A jungle paradise

To make the young lion feel better, Pumbaa and Timon launch into song — each telling their tale of how they became outcasts — and how it led them to a life with no worries. Hakuna Matata! "Well, kid are you with us?" Timon asks Simba. "I guess so," he says, as Timon pulls back a huge leaf revealing their home — a jungle paradise.

---