Series 1 Base Set 1-90


41-60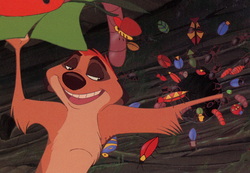 41
Fresh out of zebra

As Pumbaa and Timon show Simba around his new home, the trio suddenly realize they're starving. "I'm so hungry, I could eat a whole zebra!" Simba tells his new friends. "Uh... we're fresh out of zebra," Timon tells him adding, "Listen kids, if you're gonna live with us, you're gonna have ta eat like us." Lifting up a log, Timon scoops up a pawful of insects. "What's that?" Simba asks. "Grub," says Timon.

---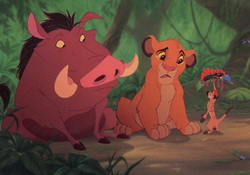 42
The fine art of eating bugs

Recoiling in disgust, Simba watches Timon pop several bugs in his mouth. "Mmmm! Tastes like chicken." Timon says. Pumbaa slurps up a slug, "Slimy, yet satisfyin'," he chimes in. "oooo...the little cream-filled kind," Timon says delightedly as he munches away. "Well, kid?" he asks Simba, offering him a taste. Simba reluctantly helps himself. "Not bad," he thinks.


---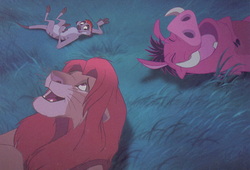 43
The great kings of the past

Time passes...and Simba grows. Carefree days give way to starlit nights. "Ever wonder what those sparkly dots up there are?" Pumbaa asks his stargazing pals. "Fireflies," Timon answers. But Simba responds, "Somebody once told me the great kings of the past are up there watching over us." Timon thinks that's the craziest thing he's ever heard and Simba wonders if he may be right.

---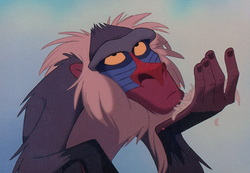 44
It is time

Elsewhere in a secret cave, Rafiki is thinking and planning. He places milkweed in a hollow tortoise shell, splits open a gourd and carefully studies the contents. He takes a bite of the gourd, then mumbles, "Simba!" On the cave wall is a painting of a lion cub — Simba. Rafiki smears a substance from the gourd on the painting. Now, the cub has a mane. Laughing joyfully, Rafiki grabs his walking stick and runs out. It is time.

---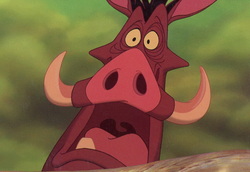 45
Run for your life

Back at the jungle's edge, another bright, carefree day has dawned. Pumbaa and Timon sing happily as they hunt for bugs. Pumbaa stalks a fat, juicy bug. Eyeing the crispy critter, he hears a crackling in the grass. Looking up, Pumbaa sees a lioness staring him in the face. Squealing, he runs for his life. "Pumbaa?" Timon calls running over to his friend. Timon sees the lioness, too. "Aaaaa," he screams.

---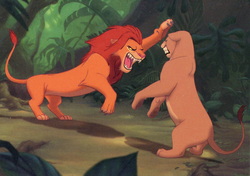 46
It's Nala!

Just as the lioness is about to pounce on Pumbaa and Timon, Simba leaps in and knocks her down. Wrestling, the lioness gets the upper hand — flipping Simba and pinning him to the ground. Simba recognizes the move — it's Nala! They both can't believe it. It's so great to see each other again.

---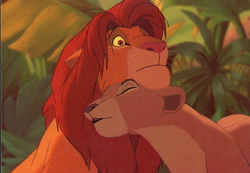 47
"You wouldn't understand."

Simba and Nala's childhood friendship has blossomed into love. But their joy is tarnished by the knowledge that Scar and the hyenas are destroying the Pride Lands. Nala urges Simba to return and claim his place as king. "Can't go back," he replies. "You wouldn't understand." But Nala can't believe Mufasa's son would turn his back on the pride.

---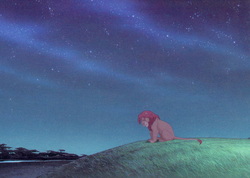 48
"You said you's always be there..."

Late into the night, Simba lies awake and troubled while Nala sleeps. "I can't go back," he argues with himself. "It won't change anything, you can't change the past." Simba looks up at the stars, remembering is father. "You said you'd always be there for me — but you're not." Filled with despair, he continues. "It's because of me. And it's my fault. It's all my fault."

---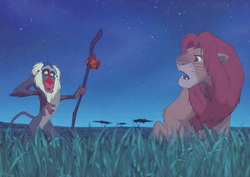 49
An odd little voice sings

As Simba sits quietly on a fallen tree trunk near a stream, he hears an odd little voice singing. It is Rafiki, who has come for Simba. "Asante sana. Squash banana," the old baboon chants. In a nearby tree, Simba sees a silhouette. Then, a stone plops in the stream. "Who could it be?" Simba wonders.

---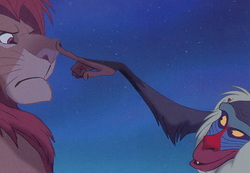 50
"I know your father."

"Will ya' cut it out?" Simba hollers as he walks away from the fallen tree. Rafiki follows, then pokes Simba in the nose with his finger. "I know who you are. You're Mufasa's boy." "You knew my father? Simba asks. "Correction. I know your father. He's alive, and I'll show him to you."

---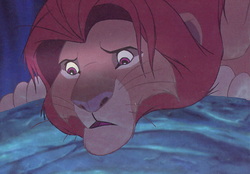 51"
He lives in you."

"You follow old Rafiki," the wise old baboon tells Simba. "Hurry up! Don't dawdle! Mufasa's waiting!" Dashing through trees, hanging branches and vines, they make their way to a reflecting pool. Rafiki tells Simba to look hard into the pool. At first Simba sees only his reflection. Then it changes to an image of his father. Simba gasps. "You see — he lives in you," Rafiki tells him.

---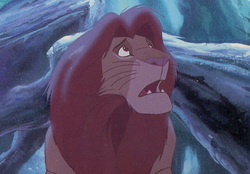 52
"Remember who you are."

As Simba looks at his father's image in the pool, he hears a voice call his name. Then something mystical happens — Mufasa's image appears in a powerful vision of colored light. "Look inside yourself, Simba," Mufasa's image speaks. "You must take your place in the circle of life." "How?" Simba asks. "Remember who you are... you are my son and the one true king." Then, the vision fades.
---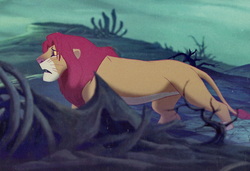 53
Simba marches toward his destiny

Inspired by his vision, Simba approaches the dry, desolate land that was once the Pride Lands. In the distance, Nala, Pumbaa and Timon follow. The horizon is filled with a sea of dried bones. Not a living thing is around. Crossing miles of sand and parched earth, Simba finally sees Pride Rock in the distance. Storm clouds gather. Continuing on, Simba marches toward his destiny — to claim his rightful place as king.

---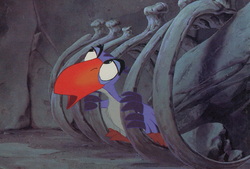 54
Forced to hunt for food

Meanwhile, in Scar's cave, Zazu is imprisoned under an animal rib cage. Bedraggled, Zazu sings a pathetic song. Scar orders him to sing something a little more "up beat." But there's nothing happy about Pride Rock now. Scar and the hyenas are in control, and the lionesses are forced to hunt food for their greedy masters.

---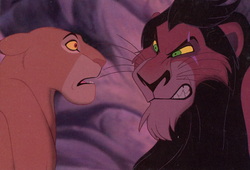 55
There is no food

As Scar reclines, the hyenas — Shenzi, Bonzai and Ed — run in. "Hey boss! It's dinner time and we've run outta' entrees. There's no food," they whine. "I'm the king, not the cook!" Scar snarls. "It's the lionesses' job to do the hunting." Scar orders Sarabi to hunt, but she refuses because there is no more food. "If you were half the king Mufasa was..." she says, but before she can finish Scar strikes her and she falls.

---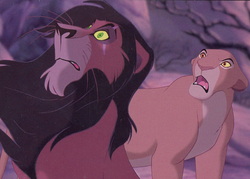 56
Simba is revealed

Lightning flashes, the sky rolls with thunder. Suddenly Scar hears a horrifying roar. He looks up to see — Simba's shadowy figure. Enraged, Simba stalks down to battle with Scar.

---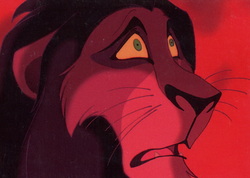 57
"I'm a little surprised to see you — alive."

Thinking he is seeing a ghost, Scar shakes with fear. "Mufasa? he calls. "No! — It can't be. You're dead. Leave me alone!" Simba reaches his mother's side. Lifting her head, she joyfully realizes the stranger is Simba — her son. Scar looks on. "I'm a little surprised to see you — alive," he says.

---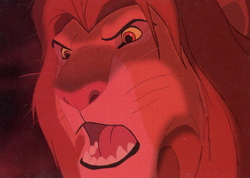 58
Either step down as king or fight

"Stroke of bad timing you showing up when you did," Scar tells his nephew. "Give me one good reason why I shouldn't rip you apart," Simba says enraged. There's one problem," Scar tells him gesturing toward an army of hyenas. "They think I'm king." "The choice is yours," Simba says, "Either step down as king or fight."

---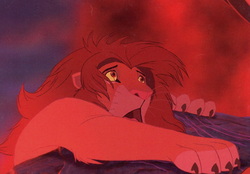 59"
It was an accident."

From a ledge, Nala and the lionesses watch Simba and Scar face off. Ever devious and cunning, Scar reveals that Simba is responsible for Mufasa's death. The lionesses gasp. "It was an accident," Simba says. "Murderer!" Scar screams. "I thought if I came back it would prove..." "That you're a fool," Scar interrupts. Shaken and filled with guilt, Simba backs up and slips off the promontory — barely clinging to the edge.

---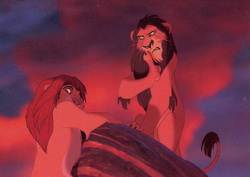 60
A blast of fury

Savoring the moment, Scar looks down at Simba. "Now this looks familiar. Hmm — where have I seen this before? Oh yes! I remember! This is the way your father looked before he died." Simba hangs on — as loose stones give way. "Just one more thing before you go," Scar adds. "I killed him!" Remembering the scene of his father's death, Simba cries "Noooooooo!" and with a mighty effort pulls himself off the ledge. He lunges at Scar in a blast of fury.

---