Series 1 Base Set 1-90




61-90
61
Large roar grows

"Help me, you idiots," Scar cries frantically to the hyenas. With roars of anger, Nala and the lionesses leap in to help Simba. In the scramble, Banzai is tossed airborne into Scar's cave. As the battle grows, lightning strikes across the sky. Fire burns all around.

---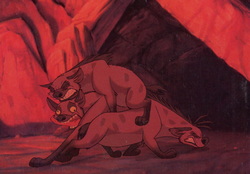 62
"Eeeee-yaaaaa!"

Crashing into Zazu's rib-cage prison, Banzai smashes it. Finally free, Zazu joins the cause. Charging Banzai, Zazu pecks at him wildly. Screaming in pain, Banzai runs from the cave yelp, yelp, yelping. Then Timon, aboard a charging Pumbaa, dashes in — rallying a battle cry of "Eeeee-yaaaaa!"

---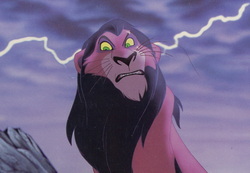 63
To a pack of hungry hyenas below

At last, Simba breaks free of the fighting hyenas. Looking around, he sees no sign of Scar. Then lightning reveals Scar sneaking up on Pride Rock. Simba follows and emerges from a wall of flames — his mane smoking. "Murderer!" he shouts at Scar, who cowers at the edge of the promontory. Simba pins him. He could destroy Scar, but thinks better of it. Scar lunges at Simba. With a swipe of his paw, Simba flips Scar over the edge to a pack of hungry hyenas below.

---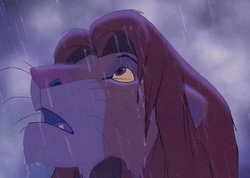 64
Simba takes his place in the circle of life

The battle is over. Scar is defeated. Slowly, a steady rain begins to fall. The drought has ended. Scar's reign of destruction and terror is over. Nala helps Sarabi to her feet. Joined by Timon, Pumbaa and Zazu, they watch Simba limp slowly up to the top of Pride Rock. Looking out over his kingdom, Simba roars in triumph. The lionesses answer back — joyful that Simba has come home to take his place in the circle of life.

---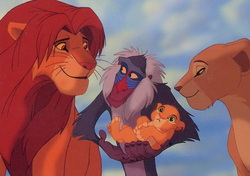 65
A new lion king is born

As time passes, the Pride Lands flourish once again. Grass grows. The animals return. As the sun rises, animals have gathered at the summit. A ceremony is about to begin. Simba looks out over the wide expanse of his kingdom, then walks towards Nala, who cradles their newborn son . Sarabi, Pumbaa, Timon and Zazu look on as Rafiki once again performs the same ceremony of blessing. Triumphantly, he lifts the tiny cub for all to see. A new lion king is born — and the circle of life is complete once more.

---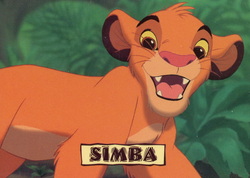 66
Simba

Simba is a rowdy, independent little cub who likes to romp and play. When Simba's father dies, it leaves Simba unsure about who he is. Then Rafiki shows Simba his reflection in a pool and the young lion understands that his father's courage and wisdom are a part of him too.
---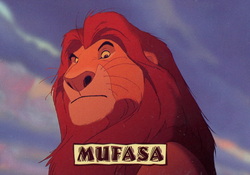 67
Mufasa

Regal, commanding and majestic, Mufasa is a great King with a kind, generous heart. Concerned with teaching his som Simba to be a wise responsible adult and king, Mufasa can seem a bit stern at times, but it's only because he loves Simba and wants to keep the youngster on the right track.


---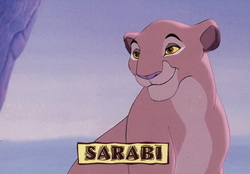 68
Sarabi

Sarabi, Mufasa's wife and Simba's mother, is kind, gentle and loving. She's also wise to her little son's tricks. Courageous Sarabi holds her own through Scar's destructive rule, and is proud when her son comes back to battle the evil ruler and claim his rightful place as king.
---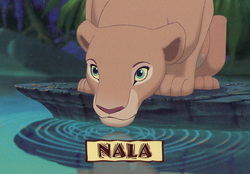 69
Nala

Every bit as rambunctious as Simba, Nala is ready to go wherever he goes or do whatever he does. Best buddies, the twosome are taken aback when Zazu tells them they are to be married. What a yucky idea! But time changes things, and when they meet again, they realize their friendship has deepened into love.
---
70
Scar

As Mufasa's brother, Scar was next in line for the throne until Simba's birth, and he is obsessed with the need to possess it. Although Scar hides his plot with concern for Simba's safety. This evil, cunning betrayer is really Simba's and Mufasa's enemy - a fact which the great-hearted Mufasa realizes too late.
---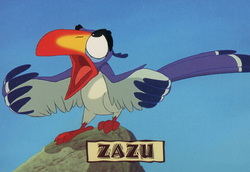 71
Zazu

Mufasa's trusted advisor, Zazu is a prim and proper hornbill bird with a strong sense of personal dignity. Although Zazu's feathers can be easily ruffled, he is dedicated to Mufasa. The honorable hornbill would give his right wing for the lion king and stays with the pride through good and bad times.
---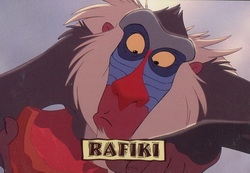 72
Rafiki

Rafiki, the wise old baboon, is like a tribal medicine man or an ancient shaman. Rafiki travels his own road, sings his own songs and knows what he knows. After anointing newborn Simba, Rafiki wanders off on his mystical way. He returns again to guide Simba back to the path he was meant to follow.
---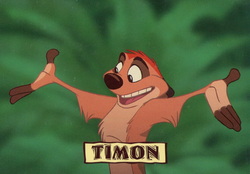 73
Timon

Timon is a hyperactive meerkat with a motor mouth. Whether he's making good-natured jokes at Pumbaa's expense or pitching his free-wheeling lifestyle to Simba, Timon always has a fast line. But behind the patter is a loyal little guy who'd give his last wisecrack to help a friend.


---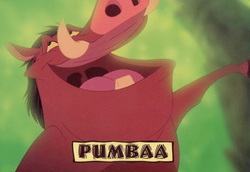 74
Pumbaa

A well-padded warthog, Pumbaa is a bit clumsy and dimwitted, but his empathy and intuition make up for his slow thought processes. Sympathetic and warm-hearted, Pumbaa is ready to trust anyone - even a carnivore like Simba, and when Simba confronts his destiny, the loyal warthog is the first to follow.
---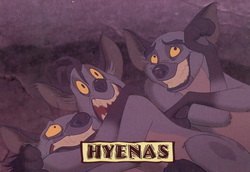 75
Hyenas
Always on the lookout for their next meal or an innocent victim to taunt, tease, or terrorize, Banzai, the male Hyena, and Shenzi, the female, talk and joke while Ed, the third troublemaker, only laughs. When they're not arguing, these three punks can be found doing Scar's dirty work - which is no laughing matter.


---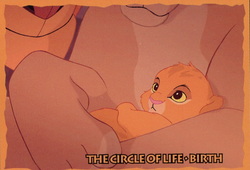 76
The Circle of Life - Birth

Rafiki, a wizened baboon, appears before Mufasa, the lion king, who leads him to where a mother lioness nestles Simba, her newborn cub. Like an ancient shaman, Rafiki performs a ceremony and blesses the cub. A new lion king has been born. Life is renewed again.
---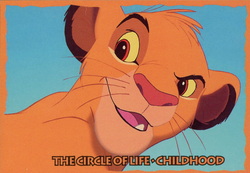 77
The Circle of Life - Childhood

Playful, fun-loving Simba spends his days pouncing and exploring with his lioness pal, Nala. Like any child, Simba's view of the world and his role in it is rather simplified. To him, growing up to be a lion king means getting to tell the other animals what to do. But his father, Mufasa, has a different idea. He tell his feisty son that he must soon learn responsibility and prepare for his future role as king.
---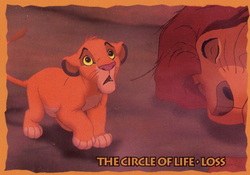 78
The Circle of Life - Loss

Blamed for his beloved father's death, Simba is filled with guilt and sorrow. But in his grief, he grows. In time, Simba learns that his father 'lives within him' and rediscovers the courage to face his destiny - and himself.


---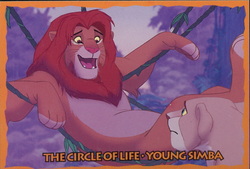 79
The Circle of Life - Young Simba

Devastated by his father's death, Simba runs away to the jungle. There he meets tow funny new friends, Pumbaa and Timon, who teach him 'Hakuna Matata' - a life with no responsibilities and no worries. Even though he leads a carefree life, something still bothers Simba. he often thinks of the life he left behind.
---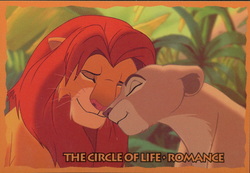 80
The Circle of Life - Romance

Time changes all things, and when Nala and Simba meet again, her spunky cuteness has ripened into sleek tawny beauty, her childlike bravado has become true courage, and their friendship has deepened into love.
---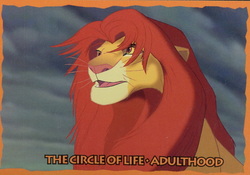 81
The Circle of Life - Adulthood

With the help of his childhood lioness pal, Nala, Simba seizes his destiny and embraces adulthood with a mighty roar. Trekking home, Simba makes his way to the pride lands, to take his place in the circle of life and claim his rightful place as king.
---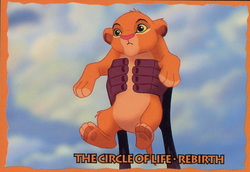 82
The Circle of Life - Rebirth

Time passes...once again, Rafiki blesses a newborn cub. It is Simba and Nala's son. The circle of life has been both completed and begun again.
---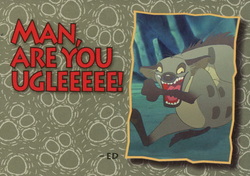 83
Man, are you ugleeeee!
- Ed
---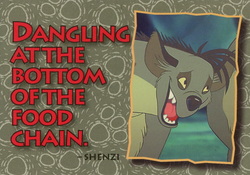 84
Dangling at the bottom of the food chain.
- Shenzi
---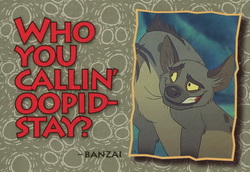 85
Who you callin' oopid-stay?
- Banzai
---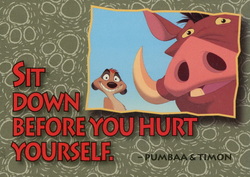 86
Sit down before you hurt yourself.
- Pumbaa & Timon
---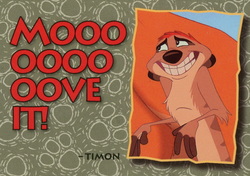 87
Mooo
oooo
oove
it!
- Timon
---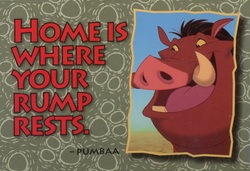 88
Home is where your rump rests.
- Pumbaa
---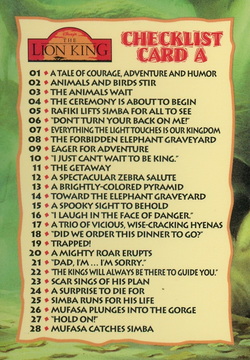 89
Checklist Card I 01-56


---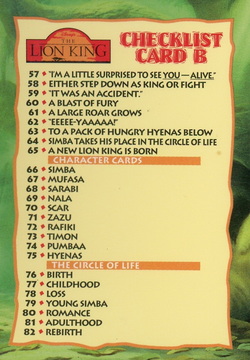 90
Checklist Card II 57-90
L1, L2 / F1, F2, F3, F4, F5, F6, F7, F8, F9
P1, P2, P3, P4, P5
---