My LK Collection
​
​
Galleries
​





Set Up #2


I rearranged a few things and added some items that I couldn't fit in to the last batch (above) of pics.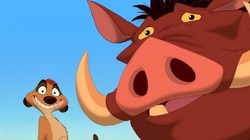 Since the release of Lion King on June 15, 1994 my life (and wallet) was forever altered. The day that I found myself in a Kmart checkout impulse purchasing a pack of LK series 1 trading cards was the beginning of the beginning. Since that moment I haven't looked back and over the years have accumulated a vast variety of items ranging from lunch boxes to action figures to jewelry to cards to puzzles and clocks and everything in betwe
e
n. I personally own all of the items within these galleries. My favorite collectibles (and those I currently pursue) are buttons, trading cards, post cards, phone cards, select action figures, pogs, fast food toys, kinder miniatures, and stickers.
"How much stuff do you actually have"? is a question that I get asked a lot. The easiest answer would be "quite a lot", which roughly translates to "too much, yet never enough." :)
---