Collect Magazine June/July 2015 Pricing Guide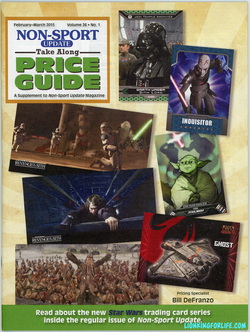 Non-Sport Update Vol. 26 / No. 1
February-March 2015


---
As any pricing goes, everything is worth as much as someone will pay for it.
Many of the prices listed here are astronomically high. I consider current eBay prices to be a better way to gauge overall current worth, though nowadays numerous sellers are overpricing many items, so general product knowledge is vital to getting a decent deal.

The exception is the SB1 card which is so scarce that the ending price really depends on how bad a person wants it. The current book value is set at $300.00.



Lion King, The (Skybox 1994)
Set (90) 11.00

Embossed foil set (9) 80.00

Pop-up card set (5) 25.00

Lenticular hologram set (2) 55.00

Factory set (in tin) 45.00
(50 oversized cards)

French-version boxed set 45.00
(90/9 foils written in French with same pictures as U.S. set called Le Roi Lion)

Movie cards 1.00
Movie card set (16) 15.00
(3 per pack/popcorn & coke)

Color-in card set (5) 7.00
(avl. in Wal-mart version)

Card album (brown) 16.00
(Two versions UPC code & no UPC code)

Card album (blue)/9 cards 95.00
(sold at Disney Stores)
Card Album (blue empty) 25.00
9 album cards 60.00

Unopened box 15.00
Unopened jumbo box 55.00
Unopened mini-box 15.00

(5x7 card #d LK) 10.00

9-card uncut foil sheet 75.00
(given to dealers ordering LK2)

Promos (S1, T1-Collect) ea. 2.00
Promo SB1 300.00
Promo A1 (Australia, N.Z.) 9.00


Series II (1994)

Set (90) (#d 91-170) 10.00

Thermography set (9) 45.00

Pop-up card set (5) 40.00

Foil-border art card set (2) 50.00

Activity card set (5) 7.00
(avl. in Wal-mart version)

Unopened box 15.00
Unopened jumbo box 38.00
Unopened mini-box 12.00

Promos: P2 (6-all P2) Aust. 25.00

Lion King Stickers (Panini/1995)
Set (232 stickers/album) 10.00
Avail. at Disney stores & Toys 'R Us


Slideshow