O.S.P. Publishing Wallet Cards (Set of 6)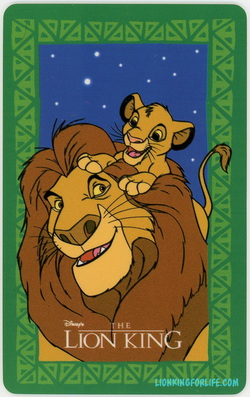 Mufasa/Simba

Simba adores his father Mufasa and can't wait to grow up to be just like his dad. Their special relationship is tender and loving. Mufasa patiently teaches little Simba what it takes to be a wise and fair ruler, but what Simba so desperately wants is a mane and an adult size roar! When Simba reaches adulthood, it is his father's words - "Remember who you are" - that urge him to claim his rightful place as the lion king.
---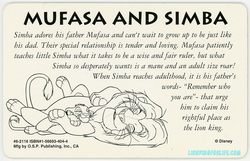 Mufasa/Simba
Reverse
---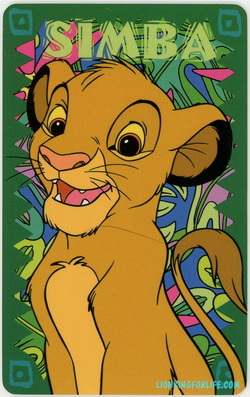 Simba

As a cheerful and feisty young future king, Simba sees his Savanna home as an endless playground. He can hardly wait to grow up and become king, just so he can tell all the other animals what to do! Mischievous by nature, Simba's urge to "walk on the wild side" takes him on a path that will lead him far from home. As he grows to an adult lion, it will take all of Simba's courage to make him a true king!
---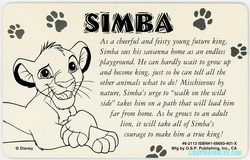 Simba
Reverse
---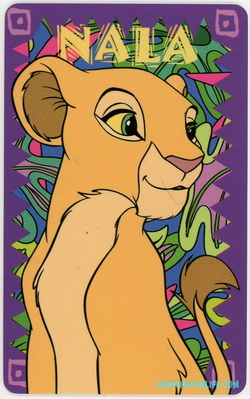 Nala

As Simba's best buddy, the little lioness cub Nala is ready to go anywhere and do anything that he does! Unimpressed with Simba's future kingship, she teases him good-naturedly when he puts on airs. Nala has courage and bravado enough to hold her own in any situation. A true friend, she will stand by Simba and as she matures into a beautiful lioness she will grow to love him with the same enduring spirit.
---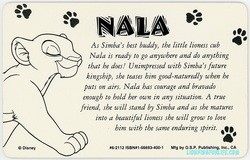 Nala
Reverse
---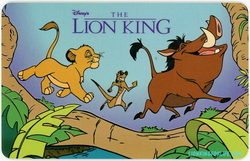 Simba/Timon/Pumbaa

When Simba finds himself alone and hungry, help arrives in the form of this bug-eating duo. Timon, a hyperactive meerkat, is the self-proclaimed "brains of the outfit", while the well-padded Pumbaa has more warthog brawn than brains. Together they welcome Simba into their jungle home and introduce him to a responsibility-free lifestyle, with a grub-eaters menu!
---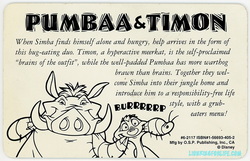 Simba/Timon/Pumbaa
Reverse
---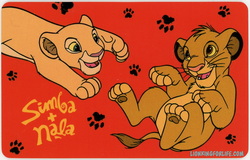 Simba/Nala - Young

These two lion cubs are best buddies and equally adventurous spirits. The dangerous lure of an elephant graveyard gets them into hot water, but doesn't dampen their love of adventure. While they are very happy to pal around together, the thought of marriage is much too yucky to consider! Little do they know that as adults their friendship will deepen into an enduring love.
---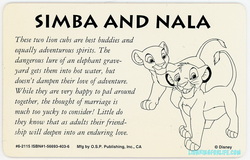 Simba/Nala - Young
Reverse
---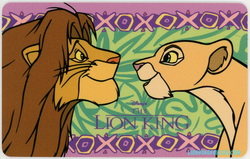 Simba/Nala - Adult

As childhood friends, Simba and Nala shared many adventures and always stuck together, no matter how much trouble they were in! When they meet again as grown lions, their friendship deepens into love. Truly meant for each other, Simba and Nala will go on to start their own family and take their place in the circle of life.
---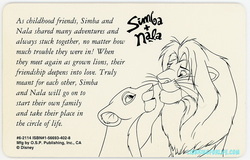 Simba/Nala - Adult
Reverse
---