SkyBox WideVision Cards 1-25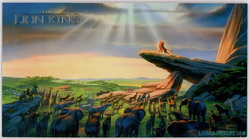 01

In the majestic African Pride lands a new Lion King, Simba, is born. Simba soon grows into a feisty youngster who loves to be with his father, Mufasa - The Lion King.
But Simba's world is not as safe as it seems. Scar, Mufasa's evil brother, is a pretender to the throne plotting to remove Mufasa and Simba from his way. After Mufasa is betrayed and killed by Scar, Simba runs away. Devastated and guilt-ridden, the cub seeks refuge in the jungle, where he meets two new friends: Pumbaa, a warthog, and Timon, a meerkat. Pumbaa and Timon teach Simba how to live life with no worries.
As Simba matures, he is haunted by his memories. Led by the ancient wisdom of Rafiki, an old baboon, Simba faces his responsibilities. With the help of Nala, his childhood lioness pal, Simba makes his trek back home to battle the evil Scar. Triumphant, Simba claims his birthright as the Lion King. Time passes...A new lion king is born - it is Simba and Nala's son.

The circle of life has been completed once again.
---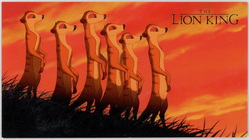 02

The sun rises full and brilliant over the African plain. A new day has dawned. Animals across the pride lands migrate through the majestic landscape, past cascading waterfalls and rose-tinted mountains. They gather below Pride Rock and wait. A great silence falls, Zazu, a fussbudget hornbill, and the king's advisor, lands on a plateau where Mufasa, the regal lion king, waits. Gesturing with his wing that all is ready, Zazu bows to the great king.
---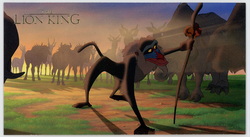 03

High atop the plateau, Mufasa looks at the animals in his kingdom gathered below. Suddenly, a figure hobbles from the crowd and scales the cliff. It is Rafiki, a wise old baboon. Slowly and solemnly, Rafiki makes his way to his old friend, Mufasa. They embrace. Mufasa leads Rafiki to a cozy den where Sarabi, his wife, nestles their newborn cub.
---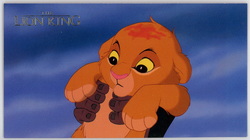 04

The age-old anointing ceremony begins. Like an ancient Shaman, Rafiki shakes a gourd over Simba. He cracks the gourd open and smears its juice on the tiny cub's forehead. Rafiki picks up a handful of dirt and sprinkles it delicately over Simba. The little infant sneezes. Gently, Rafiki stands on the promontory and lifts Simba for all to see. With cries of joy, the animals honor the new king.
---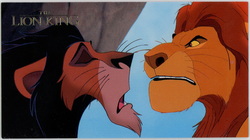 05

After Simba's presentation, Mufasa and Zazu pay Scar, Mufasa's vindictive, evil brother, a visit. Professing concern, Mufasa asks his brother why he missed the ceremony. Scar insinuates that the ceremony wasn't important enough for him to acknowledge. His answer barely masks his jealousy. If it weren't for Simba, Scar would be next in line for king. The age-old battle for power has begun.
---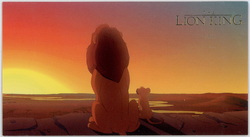 06

Time Passes...the little infant Simba grows into a feisty, independent lion cub. Mufasa realizes that Simba's training for eventual leadership must begin. As they gaze over the great expanse of the land, Mufasa tells Simba that everything the light touches is their kingdom. Simba is awestruck. Mufasa continues. He tells his son that just as the sun rises and falls, so does one's time as a ruler.

One day, Mufasa's time will set and Simba will rise as the new Lion King.
---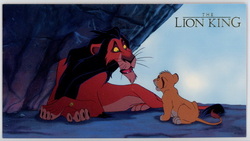 07

Hyenas, unwelcome intruders, have infiltrated the pride lands, and Mufasa sets off to expel them from his kingdom. Meanwhile, Simba makes his way to Scar's sunning area. Confident and excited, Simba boasts to Scar that he's going to be king one day. Enraged, Scar thinks up a devious plan. Cunningly, Scar describes a dark, foreboding place to Simba - the elephant graveyard - and warns him not to go there. Filled with self-satisfaction, Scar knows Simba will head straight for the graveyard...and straight into dangerous trouble.
---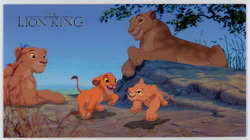 08

Eager to share his news, Simba finds his best friend, Nala, back at Pride Rock. She's impressed and can't wait to go explore with Simba. Pretending to head to the waterhole, Simba and Nala make their way instead to the elephant graveyard. But the young lions are not completely alone - Zazu flies over head trailing them! Racing along, Simba and Nala come up with a plan to escape the watchful hornbill.
---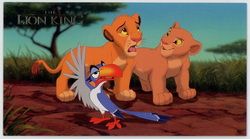 09

While Simba and Nala trot along whispering their plan to each other, Zazu thinks romance is in the air. He tells Simba and Nala that they're betrothed to be married one day. Both Simba and Nala find the idea reprehensible: they can't get all mushy and fall in love - they're best friends! Simba vows to do away with this rule when he becomes king. In a lively song, Simba imagines what his life will be like as king.
---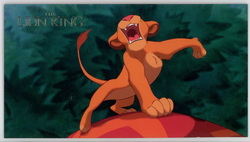 10

As Simba sings, his imaginary kingdom grows larger and larger until, finally a myriad of brightly colored animals form a massive pyramid - with Zazu at the bottom supporting it all! Exhausted by the weight, Zazu's tiny body collapses, and the animals tumble down - trapping him underneath. In a muffled tone, he cries out for Simba and Nala to help him. but they're long gone on their way to see the elephant graveyard.
---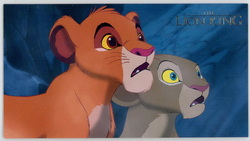 11

Upon reaching the elephant graveyard, Simba and Nala are taken aback by its eerie atmosphere. Steam hisses from the ground, mists swell, and old, fermenting elephant bones lie in bubbling, sulphurous pools. Dominating it all is a huge elephant skull. Simba and Nala take a deep breath, summon all their courage, and cautiously enter.
---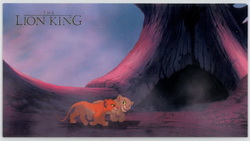 12

Walking toward a gaping eye socket, Simba is about to enter the vacuous hole when Zazu suddenly swoops in to scold him. Simba is beyond the boundary of the Pride Lands, and on dangerous ground. Ignoring the worried Zazu, Simba continues on. Then dark, insidious laughter echoes menacingly across the graveyard slowly. A trio of vicious hyenas named Shenzi, Banzai and Ed slink from the darkness of the graveyard and surround Simba, Nala and Zazu.
---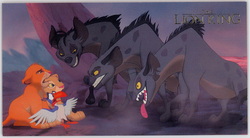 13

The nasty trio corner Simba and Nala, arguing nastily about who will eat what for dinner. In an unguarded moment, Simba and Nala attempt to getaway, but the hyenas close in fast. Trying their best to climb a skull, Simba and Nala can't gain enough traction, so they slide down a long elephant spine and land in a pile of bones. The hyenas catch up with them and force Simba and Nala into a dead end. Their only option is to climb an elephant carcass. As they do, the dry bones give way and snap down on Simba and Nala, imprisoning them in a cage of elephant rib bones!
---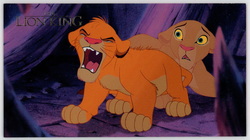 14

Circling the cage of bones, the hyenas terrorize the young cubs, Simba musters up all the courage he can to roar, but all that comes out is a pathetic squeak. The hyenas laugh hystericallly. Then, a huge roar interrupts their laughter. Simba's father, Mufasa, has arrived. Frightened by the powerful Lion King, the cowardly hyenas take off.
---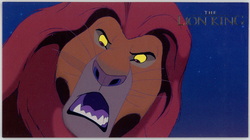 15

Angered by Simba's deliberate disobedience, Mufasa chastises his son. As they make their way home, Simba follows his father, dejected and with head hung low. Nala and Zazu follow. Simba apologizes to his dad, but Mufasa is too upset to answer. Quickly looking over at Simba so as not to attract Mufasa's attention, Nala tells Simba in a hushed tone that she thought he was very brave.
---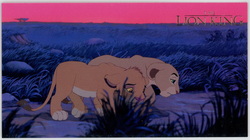 16

Later, as a gentle wind blows, Mufasa and Simba stand quietly beneath the starry sky. Mufasa tells his son that he could have been killed, and that he put Nala's life in jeopardy as well. Simba tearfully tells his father that he was only trying to be brave like him. Touched by his son's emotion, Mufasa tells Simba something his own father told him long ago. The great kings of the past look down from the stars, ready to guide and comfort. And Mufasa, too, will always be there for his son.
---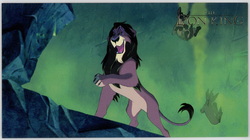 17

Scar visits the hyena's lair, and it's obvious that something's on his mind. Impatient that his plan to become king has been delayed, Scar tells the hyenas that they bungled an easy job. He offered them the cubs on a silver platter. Scar then makes an agreement with the vicious trio. He'll make sure that they'll never go hungry again, if they agree to help him kill Mufasa and Simba. As Scar sings of his plan, darkness permeates the land - rock pillars thrust from the ground and steam vents erupt!
---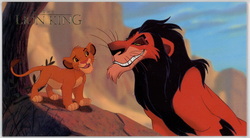 18

The calculating Scar puts his treacherous plan into action. Cunningly, he lures Simba into a narrow dead-end gorge and bids him to wait for his father, Mufasa, there. As the unwitting youngster waits in the dusty stillness, he practices his roar. Innocence personified, Simba is preparing for his future role as king.
---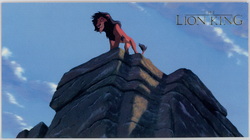 19

As he works on developing a deeper roar, Simba is unaware of any impending danger. Then in the distance, a huge, thundering sound reverberates through the gorge. Through the clouds of blinding dust, Simba notices a stampede of wildebeest pounding toward him. Terrified, Simba runs.
---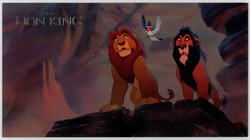 20

Racing behind the wildebeest, the evil trio of hyenas nip at their hooves, driving the panic-stricken herd after Simba, who seems to have little hope of escape. From a plateau above the gorge, Mufasa and Zazu notice the dust cloud. Suddenly, Scar conveniently appears, with nothing but sheer malice in mind. He feigns panic and directs Mufasa into the gorge to rescue Simba. Mufasa descends into the gorge and fights his way upstream through the thunderous herd of wildebeest.
---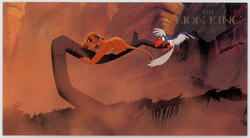 21

Panic-stricken, Simba desperately scrambles for refuge from the approaching herd. Climbing a dead tree, he clings to it for his life. Simba spots Zazu flying overhead and cries out for help. Zazu reassures him that his father is coming. But before Mufasa can reach Simba, a wildebeest crashes into the tree and Simba flies into the air.
---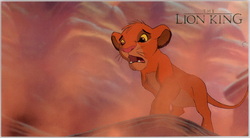 22

Mufasa makes a valiant leap and catches Simba, but as he runs with the cub in his mouth, a wildebeast knocks Mufasa down. Simba tumbles beneath the treacherous hooves. Again, Mufasa dodges the hooves of the trampling herd to snatch Simba from danger. He pushes his son onto a rock ledge above the herd.
---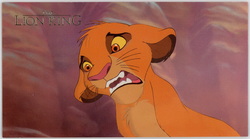 23

Safe on the ledge, Simba watches as his father falls back into the thunderous stampede and disappears. Simba tries to look for his father through the swirling cloud of dust. He hears Mufasa crying his name, but he cannot see him. Simba shouts for his father, but there is no response.
---
24

Wounded and weary, Mufasa makes his way to a rocky overhang. Anchoring himself there as best he can, Mufasa clings to the rock, exhausted from the treacherous climb.
---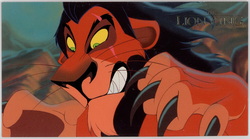 25

Savoring his moment of power, Scar looms large above Mufasa, who desperately clings to the rocky ledge for his life. Mufasa cries out to his brother for help - but Scar doesn't answer. Mufasa cries out again. Pretending to help, Scar digs his claws into Mufasa and pulls his face up close to his own. But instead of pulling his brother out of danger, Scar releases his grip. Mufasa falls to his death below.
---