SkyBox WideVision Cards 26-50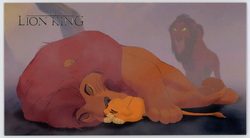 26

Running into the dust-filled gorge, Simba rushes to Mufasa's side. He nuzzles his father, but Mufasa does not respond. Overcome with grief, Simba sobs beside his father's lifeless body. Slowly, the ominous, shadowy figure of Scar appears. Looming over Simba, he tells the grief-stricken young lion that Mufasa's death was his fault. Devastated and guilt-ridden, Simba runs away.
---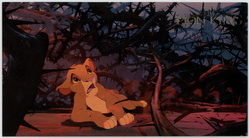 27

Just one step away from absolute rule of the kingdom, Scar instructs the hyenas to follow Simba and kill him. Lightning quick, the vicious hyenas track the lion cub and trap him on the edge of a plateau. Cornered, Simba leaps and lands in a thorny bush below. The hyenas follow.
---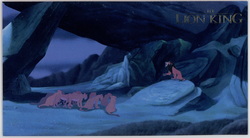 28

Meanwhile, Scar returns to Pride Rock. Hiding his guilt, Scar tells the other lions of Mufasa's and Simba's deaths. At last, Scar's scheming has paid off. As he assumes the throne, Scar addresses his subjects, speaking of an alliance of peace and prosperity between the lions and hyenas. As hyenas slink across the Pride Lands, a troubled Rafiki looks on.
---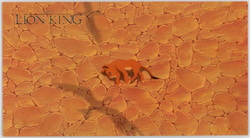 29

As the evil Scar institutes his rule of the Pride Lands, Simba trudges through the hot, dry desert. Almost overwhelmed by thirst and fatigue, Simba sees buzzards circling around him. With his strength and hope gone, the little lion collapses and faints.
---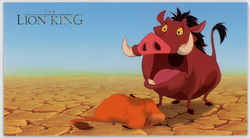 30

The buzzards circle closer and begin to approach Simba's still form. Suddenly, a loud cry rings out. Pumbaa, a warthog, and his pal Timon, a meerkat, race to Simba's side, scattering the startled buzzards. Pumbaa and Timon examine Simba, but aren't quite sure what he is. Lifting Simba's paw, they discover he's a lion. Timon is afraid, but Pumbaa wants to help. Pumbaa scoops Simba up and carries him into the jungle, with Timon following.
---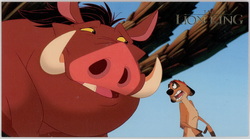 31

At the edge of the jungle, Pumbaa and Timon watch as Simba awakens. They ask Simba where he is from and why he left home. Simba is too embarrassed and guilt-ridden to tell them his story. Surmising that Simba is an outcast, Timon and Pumbaa are delighted to find a kindred spirit. They tell Simba to put his past behind him and introduce him to the concept of "Hakuna Matata" - a life with no responsibilities and no worries.
---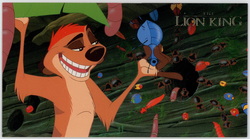 32

As Pumbaa and Timon show Simba around the lush jungle paradise that is now his home, the trio realize they're starving. Simba is hungry enough to eat a Zebra, but Pumbaa and Timon have different ideas. If Simba is to stay with them, then he must play by their rules and eat their kind of food - bugs! Sampling the repast, Simba finds it's not all that bad. With no where else to go and no other friends, Simba agrees to stay.
---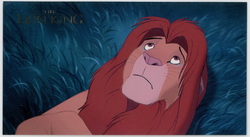 33

Time passes, and Simba grows into a strong, mature lion. But his past sometimes troubles him. Lying on the cool grass one star-spangled night. Pumbaa, Timon and Simba gaze into the sky. Pumbaa wonders what the sparkly dots are. Timon thinks that they're fireflies. But Simba has a different answer. He tells his friends that the great kings of the past are in the sky watching over everyone. Timon thinks it's a crazy idea. Simba agrees that Timon may be right.
---
34

Elsewhere, in a hidden cave, Rafiki deftly goes through his Shaman rituals. He places milkweed in a hollow tortoise shell, splits a gourd and carefully studies the contents. On the cave wall is a primitive painting of a lion cub - it is Simba. Rafiki smears the juice from the gourd around the painting and creates a mane. Gazing at the painting, he nods, then takes his walking stick and begins his journey. It is time.
---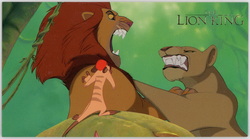 35

Unaware of Rafiki's journey, Simba and his friends continue their carefree life. As Pumbaa and Timon search for bugs, Pumbaa hears a loud, crackling sound in the long grass. Looking up, he sees a lioness staring right at him. Terrified, Pumbaa screams. Timon rushes to his aid, sees the lioness, and shrieks, too. Hearing his friends screams, Simba leaps in and knocks the lioness down before she has a chance to pounce. Simba and the lioness struggle. The lioness flips Simba and pins him to the ground. Simba suddenly recognizes the move - and the lioness, too. It is Nala!
---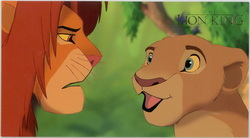 36

Nala is amazed to see Simba. She has believed him to be dead for many months. Simba, too, is happy to see his old friend. As they stroll through the jungle paradise sharing news of the Pride Lands, Simba and Nala realize their friendship has deepened into love. But the blissful feelings quickly fade. Nala tells Simba of Scar's destructive rule and pleads with him to return home and claim his rightful place as king. Still harboring feelings of guilt and shame, Simba tells Nala he can't go back. She doesn't understand how Simba could turn his back on the pride.
---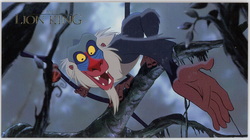 37

As Nala sleeps, Simba steals away to ponder her words. Sitting alone on a fallen tree trunk near a stream, Simba tells himself that he can't go back home; it won't change anything. Then, Simba hears an odd little voice singing. It is Rafiki who emerges from the shadows. In a mysterious tone, the old baboon tells Simba that his father is still alive and he can prove it.



---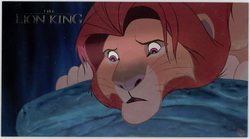 38

Rafiki beckons for Simba to follow. Dashing through thick clusters of trees, hanging vines and branches, the two make their way to a reflecting pool. Rafiki motions to Simba to look into the water. At first Simba sees only his own reflection. Then, a breeze shivers the water's surface, and Simba's reflection becomes the image of Mufasa. Simba is moved as Rafiki tells him that his father lives on inside him.
---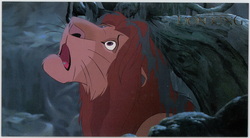 39

The wind blows, clouds build on the horizon. Simba looks up and sees a powerful vision of Mufasa surrounded by light. Mufasa speaks, telling his son to look within himself, so that he may gather the courage to take his place in the circle of life. But how, Simba wonders? His father tells him to remember who he is - the one true king. Slowly, the vision fades from the sky. Simba is alone again, but no longer afraid.
---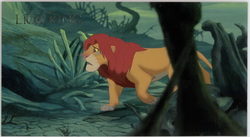 40

Inspired by his vision of his father, Simba faces his destiny and begins his journey home to claim his rightful place as king. Nala, Pumbaa and Timon follow. Crossing miles of sand and parched earth, Simba approaches the dry, desolate landscape that was once the beautiful Pride Lands. As Simba approaches Pride Rock, storm clouds gather and lightining flares in the lurid sky.
---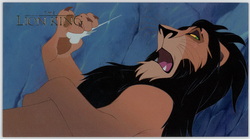 41

Never suspecting that Simba was still alive, Scar has reigned with cruelty and fear. At Scar's lair, the hyenas - Shenzi, Banzai and Ed - complain that there is no more food. Scar snarls that he is a ruler, not a cook. It's the lionesses' job to do the hunting. Scar orders Sarabi to hunt, but she refuses. There isn't a thing left to eat in all the parched, desolate land. Infuriated by her words, Scar strikes Sarabi, knocking her to the ground.
---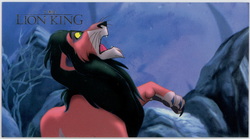 42

The sky grows dark. Lightning flashes illuminate the shadowy figure of a lion outside Scar's lair. Scar hears a loud roar. Startled, Scar looks up and sees Simba. Filled with rage, Simba charges toward the traitorous Scar.
---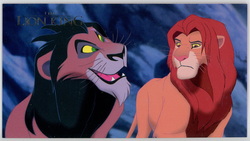 43

Believing he has seen Mufasa's ghost, Scar quivers in fear. Then he realizes it is actually Simba who stands before him. Maliciously, Scar gestures toward his army of hyenas. It won't just be Scar whom Simba will have to fight. Scar hides his shock at seeing Simba alive, and mocks Simba's challenge to step down as king or fight. Undaunted, Simba lunges at the evil Scar.
---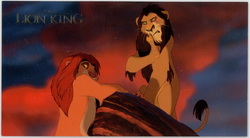 44

From a ledge, Nala and the lionesses watch Simba and Scar claw at each other. Playing on Simba's feeling of guilt, Scar again accuses him of causing Mufasa's death. The onlooking lionesses gasp. Simba insists that it was an accident, but Scar call him a murderer. Shaken by Scar's vicious verbal attack, Simba backs up, loses his footing and slips off the promontory.
---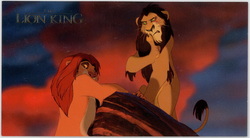 45

As Simba clings precariously to the edge of the promontory, Scar looms over him. With a sneer, Scar comments that everything seems "so familiar". This is exactly the way Mufasa looked before he died. Stones give way beneath Simba. He slips, inching closer to death. Certain of his victory, Scar finally reveals the truth - that he is the one who really killed Mufasa. The words empower Simba with new rage. Somehow, he pulls himself from the ledge and lunges at Scar.
---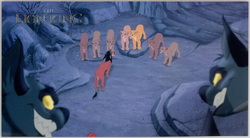 46

Scar cries out for his evil allies, the hyenas, to help him - but they have no allegiance to anyone or anything. Nala and the lionesses leap in to help Simba. As the battle rages, lightning bolts streak the sky, setting fire to the dead, dry grass. The flames race through the Pride Lands.
---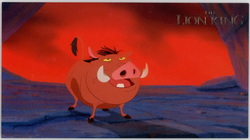 47

In the thick of the fight, the lionesses toss Banzai into Scar's lair where he crashes into the cage of bones imprisoning Zazu. The little hornbill is finally free! He joins in the melee, pecking wildly at Banzai. The cowardly hyena runs yelping from the cave. Timon and Pumbaa charge past him, whooping a fierce battle cry.
---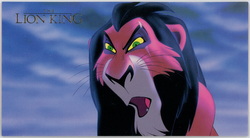 48

Simba breaks free at last from the fighting and looks for Scar. A flash of lightning reveals the murderer. Sneaking up Pride Rock, dashing through a wall of flame, Simba confronts Scar at the edge of the promontory and pins him down. Simba has the power to destroy him, but thinks better of it and releases his hold. Suddenly, Scar lunges back. Simba counters with a swipe of his paw, and knocks Scar over the edge. A howl rises up from the hungry hyenas below.
---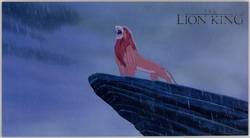 49

The battle is finally over. Scar's evil reign of terror has ended. As quiet descends upon the scene, the sound of a steady rain takes the place of battle cries. The long drought is over. Nala and the others look on as Simba, the rightful Lion King, walks up to the top of Pride Rock. He lifts his head and roars triumphantly. Simba has returned to take his place in the circle of life.
---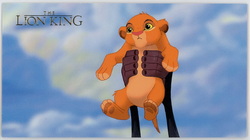 50

Time passes. The Pride lands once again flourish with life. Animals gather again below Pride Rock and wait. A ceremony is about to begin. Rafiki once again lifts a tiny cub for all gathered to see. It is Simba and Nala's son. The circle of life is complete once more.
---